Our first blog post in a while on this website, and our first ever guest blog post as well sees us looking back at the inaugural live iteration of the People's Countryside Environmental Debate Podcast, known as Environmental Debate Live and Unscripted, which happened on the 25th September 2021.
The initial pilot show brought the podcast format in front of a live audience for the first time, in the outdoors. Invited guests Martin Gibson of Earthly Gains, and Dr. Tara Pirie from the University of Reading, who alongside Stuart and William (podcast hosts), discussed the big issues covering the climate, sustainability, philosophy, nature, social justice, and the human condition.
During the event 5 questions were covered; two brought by the guests, one jointly from the Stuart and William, and then the fourth and fifth were opened up to audience, and were picked from a hat that was passed around during the interval. In the end there was only had time on the day to discuss two of the seven audience questions received, which lead Stuart and William to record a bonus podcast episode specifically about these questions. Listen again link below…
For this pilot event Stuart and William collaborated with Sian Liwicki of Bothy Vineyard in Oxfordshire, England, where this event was held, and Sian was asked to write about the experience of hosting this inaugural event, and what motivated her to host this event.
Here is Sian's blog post:
"When Stuart and William approached us at Bothy Vineyard to be part of their plan to take their podcast live, it seemed like a completely natural new step for us. In fact it felt like we had been working towards it for years.
When we bought the oldest vineyard in Oxfordshire, twenty years ago, our lives changed radically. We went from scientific administration to cramming a life full of young children, tractors, spraying, industrial scale pruning, work parties, layers upon layers of governmental regulation, harvests, wine-making and building a drinks business onto our 11 acres of land situated in the sandy heart of the county. At the same time we designed and built an environmentally friendly house using many ground breaking techniques for the time.
We worked hard to produce quality wines that reflected the "terroir" – our soil, climate, sense of place – and make the business work financially. The latter was crucial – why would we run a business otherwise?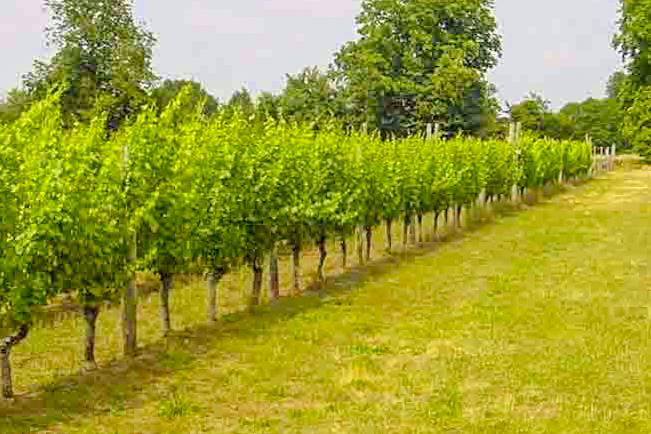 As my husband and I got to grips with our new life, we began to think about our relationship with the land. Frilford with its sandy, nutrient-poor soils is in the heart of most biodiverse part of Oxfordshire. Moreover, we were now "landowners" and a small cog in the complex world of food production. Farming and food production, we came to learn, were key sectors that reflected mankind's attitude to and relationship with the planet.
Our first step towards building biodiversity was stopping the regime of weedkilling between the rows of vines, at that time a common practice then in Norther European vines but just beginning to be challenged in new world. Richard sowed grasses and clover between rows, and reduced the weeding beneath the vines. Within a year wildflowers were popping up between the vines, whilst moles were back, digging up huge mounds of sand to find the worms and grubs that had been missing for so long. Fortunately, the early years of vineyard management had not destroyed the soil, and this new diversity then encouraged our ancient vines to thrive.
Then came the managing of our non-cultivated areas for even more wildlife. We planted a coppice to provide shelter to the vines, but also for wildlife. Dutch Elm Disease had ravage the old hedges in our area – so we set about replanting the bordering hedges with a mix of native trees and shrubs. This took place in stages through the years, as we could afford it, coupled with the maintenance required. Bird and bat boxes went up around the winery and established trees. Whenever old trees were blown down in storms, we were always careful to leave some large pieces for the insects to shelter and to munch up!. We invited local species recorders onto our land to monitor how our wildflowers were doing, and used our site for huge art events – in aid of Wild Oxfordshire, a local wildlife charity.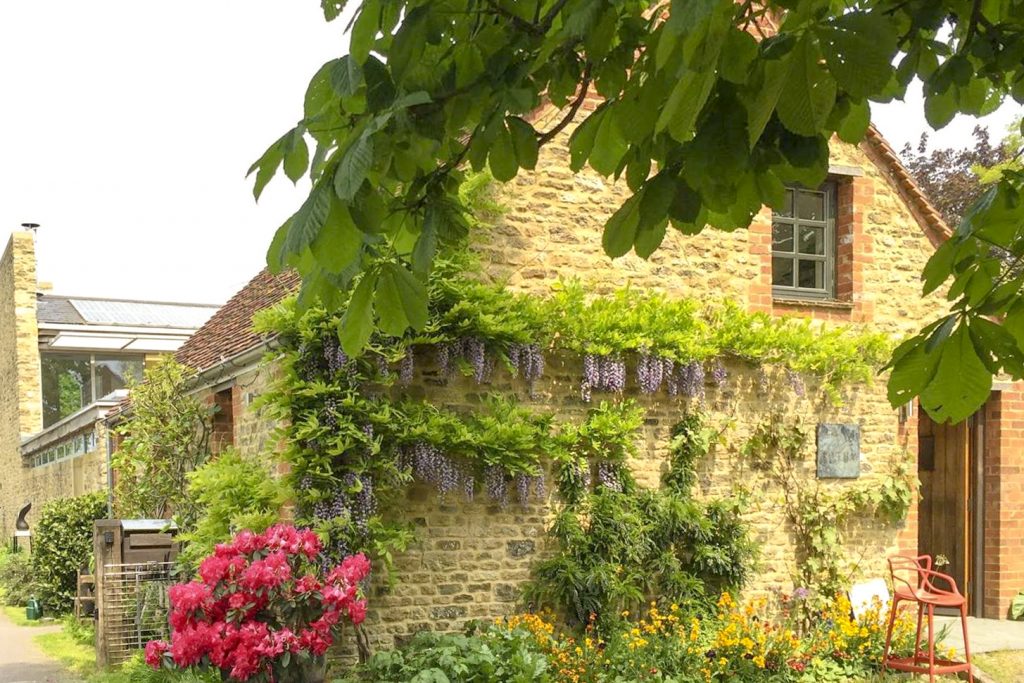 On the wine production side, we gradually reduced our carbon footprint – spraying fungicide only when it was really necessary, harvesting by hand, using minimum intervention methods in the winery, reducing the weight of the glass bottles and sticking with natural cork rather than moving on to using indestructible plastic corks. We did away with plastic seals around our bottlenecks – our bottles became naked – and got our customers and volunteers to re-use their wine boxes. Then more solar panels were installed, refrigeration equipment brought up to date and we switched to a totally green electricity supplier. The latter was so simple, we wondered why more people did not do this.
Whilst on this journey, we also became part of the local community – taking part in local events, fundraising for local causes, being part of the local voice for change. We also built a community around the vineyard; our work parties were convivial affairs with heaps of food (much grown on our own allotment) and fine wine! Volunteers became friends.
It has been an incredible 20 year journey for us, but one that came to an end last November. Lockdowns in 2020 give us the time to understand that the rising incidence of destructive late frosts on our site was a sign that climate change was casting its shadow over Bothy. Warm winters cause the buds to burst too early, making our vines super-susceptible to overnight frosts in May. It was time to stop. It was a huge decision to grub up our vines, and we will feel the loss of our community as much as the wine we sell.
So when William and Stuart approached us to host an open air environmental debate, it felt like things could go on here in Frilford Heath – just differently. In 2021 we planted 900 trees and more wildflower areas for future generations. And yes, we can still play a role, a small one perhaps, in fighting for a greener future.
Thanks to Sian for the interesting and insightful post, and for also being a great host, and venue for our inaugural event.
You can hear us discuss all the questions raised on the day in the following episode;
Questions We Didn't Get To Discuss (BONUS EPSIODE)
You can listen to the podcast with the following main links below, and many others too, including this universal link: https://bit.ly/3LGS82v
Apple Podcasts:
https://apple.co/3usgA1c
Google Podcasts:
https://bit.ly/3gjqeLq
Spotify:
https://spoti.fi/34947EY
Amazon Music:
https://amzn.to/3IVauKN
Anchor:
https://bit.ly/3s7x0tq
Extra Links.
You can listen to the podcast with the following links;
Apple Podcasts: http://apple.co/2K4fHHK
Google Podcasts: http://bit.ly/2KzE5Ay
Spotify: http://spoti.fi/34nZ2FN
Amazon Music: https://amzn.to/3mpIKCt
Get email notifications about future releases: http://bit.ly/34oQXkm
Do you have a question you'd like Stuart and William to examine, mull over, explore, discuss, delve into or debate? Send us an email thepeoplescountryside@gmail.com with your name, where you're listening from, and your question.
Or you can record your question in your own voice by going to https://anchor.fm/thepeoplescountryside/message
Social Media;
facebook.com/thepeoplescountryside
twitter.com/countrysideTV
instagram.com/thepeoplescountryside/
youtube.com/thepeoplescountryside
You can also find us on TikTok, just search for The People's Countryside.
And we're also on Reddit; reddit.com/r/thepeoplescountryside/
Find out more about the wider project at: https://thepeoplescountryside.co.uk/
Support the project through Patreon: https://www.patreon.com/thepeoplescountryside or just 'FOLLOW' us so you don't miss any of our 'public' posts that sometimes don't appear on any other platform.
Share The Podcast With Five Friends Today: Help us to spread the podcast as far and as wide as possible by sharing it with five of your friends today https://anchor.fm/thepeoplescountryside